Every child deserves protection. Unfortunately, some wrongdoers in trusted positions have taken advantage of the innocent. These victims may think there is no where to turn or it is too late, but the trial attorneys at Hendrickson & Long, PLLC are here to help you evaluate your opportunity for justice. With your help, we fight against past, present and future sexual abusers by holding the guilty accountable. Our Trial Attorneys can help your loved one or yourself if you are or have been sexually assaulted or abused; want to know what the legal options are; and want those who enabled the abuse to occur to be held accountable across West Virginia (WV) and Pennsylvania (PA). Regardless of when this occurred, you can find your child sex abuse lawyer in WV and surrounding states at Hendrickson & Long, PLLC.
On March 25, 2020, Governor Jim Justice signed into law a bill allowing victims up to the Age of 36 or 4 years after discovery of the sexual assault or sexual abuse, whichever is longer, to pursue litigation against perpetrators and private organizations. 
Additionally, victims may now sue any person or organization which aided, abetted, or concealed the sexual assault or abuse.
MOST IMPORTANTLY, if you are in this new range up to the age of 36, your previous claim IS NOW REVIVED until the victim, yourself or your loved one, turns age-36, even if previously denied. The Trial Attorneys at Hendrickson & Long, PLLC can help you revive this claim in order to finally, and justly, attempt to hold child sex abusers and thier enablers accountable.
In Pennsylvania, a November 26, 2019 bill was signed into law, allowing victims sexually abused as minors to sue up to the age of 55 and expanding liability for government institutions by providing exceptions to the laws of government immunity and limitations on damages. Also, young adult victims sexually abused at ages 18 to 23 can sue up to the age of 30.  As for reviving old cases in Pennsylvania, previously filed and dismissed child sex abuse victims outside of these criteria are awaiting recourse. A two-year window of time for retroactive lawsuits for victims whose statute of limitations passed in the Pennsylvania Legislature in November 2019. Since it would require an amendment to the Pennsylvania Constitution, it would need to pass in identical form during the 2021-22 legislative session by both the House and Senate and then approved by voters on a referendum ballot before it can become law.
While we understand filing a lawsuit may bring up difficult memories and emotions, the Attorneys at Hendrickson & Long, PLLC have a skilled network to hold the abuser and the enablers accountable for their child sex abuse. Each lawsuit against such individuals and organizations encourages further reform to help victims and their families heal, and helps prevent the unconscionable act of child sex abuse from existing in West Virginia (WV), Pennsylvania (PA) and nationwide.
It is important to remember that even though an individual or organization may be named in a report, database or lawsuit, these mentions and attributions, on their own, are merely allegations. Our legal system presumes that a person accused of or charged with a crime is innocent until proven guilty.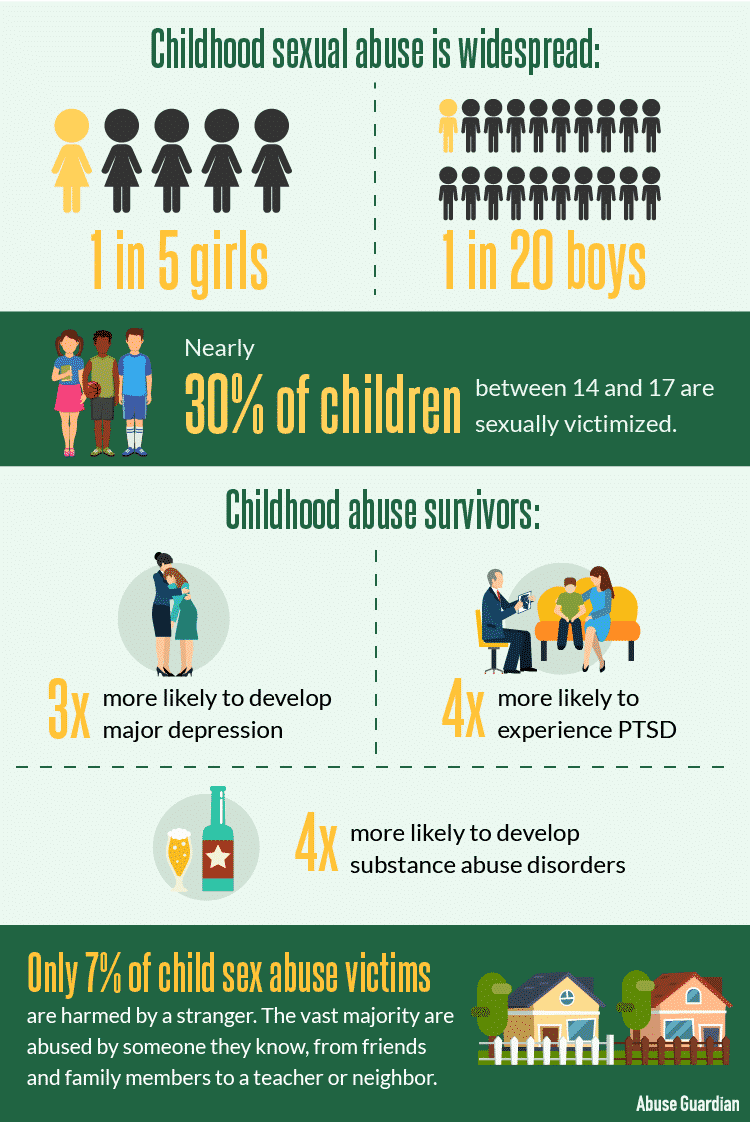 (Courtesy of AbuseGuardian.com)
Navigating A Child Sexual Abuse case with Your Lawyer
If you or your loved one has been a victim of sexual abuse, you may bring a civil action against the perpetrator to seek compensation for your injuries and damages. Bringing a claim, gathering evidence, and navigating the judicial system are not matters that your family and you should need to handle on your own during this emotional time. Instead, you should enlist an experienced lawyer at Hendrickson & Long, PLLC to take legal action on your behalf.
In many cases, both the defendant and the defendant's en may be sued for damages resulting from the abuse. Under the theory of vicarious liability, an employer is liable for the negligent acts that its employees commit during the course and scope of their employment. Although there may be a criminal action also pending against the defendant, a victim and their family may allege civil theories based on assault and battery, negligent infliction of emotional distress, intentional infliction of emotional distress, negligent hiring, or negligent supervision. The outcome of the civil case does not depend on the outcome of the criminal case, since the standard of proof is different in each of them.
Your Hendrickson & Long, PLLC Lawyer understands a Parent's Perspective
As a parent, one of the most traumatic situations that you can face is learning that your loved one has been a victim of child sexual abuse. Such an event often has life-altering consequences for the victim and their family, requiring substantial therapy and treatment to alleviate. And while no amount of compensation will ever fully undo the harm, it can help cover the costs associated with the abuse and ease the victim's pain and suffering. At Hendrickson & Long, PLLC, our Trial Attorneys have substantial experience handling these types of cases. We offer a free consultation to help you learn about the options that may be available to your child and you. 
Hendrickson & Long Has the Team of Attorneys You Need in WV and PA
Hendrickson & Long, PLLC is a mid-sized, WV-based firm that provides comprehensive legal advice and support for your family in PA and WV.
In addition, many of Hendrickson & Long's attorneys have received individual
recognition for professional knowledge or ethical standards like these:
Should litigation become necessary, our civil litigation skills are top-notch.
Contact us today to begin building a relationship with your lawyer in WV or PA.